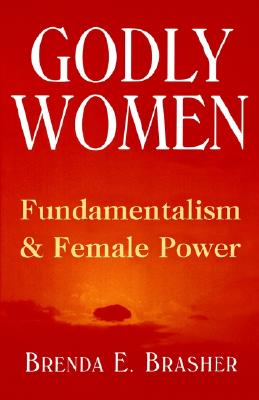 Image shown may not reflect actual item
Author Name Brasher, Dr. Brenda E
Title Godly Women
Binding PAPERBACK
Book Condition Very Good
Publisher Rutgers University Press
ISBN Number 0813524687 / 9780813524689
Seller ID SKU1034381
0813524687 Very Good. Light shelf wear to covers/corners; satisfaction guaranteed. Trade paperback binding. Earthlight Books is a family owned and operated, independent bookstore serving Walla Walla, Washington since 1973.
More Description
Fundamentalist women are often depicted as dedicated to furthering the goals and ideas of fundamentalist men and thus of ancillary importance to the movement as a whole. Godly Women, Brenda Brasher's groundbreaking ethnographic study, reveals the paradox that fundamentalist women can be powerful people in a religious cosmos generally understood to be organized around their disempowerment. Brasher spent six months as an active participant in two Christian fundamentalist congregations to study firsthand the power of fundamentalist women. In addition to the narrow set of religious beliefs that constitute each congregation, she discovered that gender functions as a sacred partition which literally divides the congregation in two, establishing parallel religious worlds. The first of these worlds is led by men and encompasses overall congregational life; the second is a world composed of and led solely by women. Brasher explores how and why women become involved in this highly gendered religious world by examining women's ministries, Bible study groups, and conversion narratives. She discovers that women-only activities create and sustain a parallel symbolic world within and among congregations, which improves women's ability to direct the course of their lives and empowers them in their relationships with others. The women develop intimate social networks that act as a resource for those in distress and provide the basis for political coalition when women wish to alter the patterns of congregational life. Brasher's study sheds new light on the ideas and faith experiences of fundamentalist women, revealing that the religiosity they develop is not as disempowering as one might think. Brenda Brasher is an assistant professor of religion at Mount Union College.
Price = 8.00 USD


Nein, Nein, Nein
8.50 USD
Add to Book Bag!



Illywhacker
Carey, Peter
15.00 USD
Add to Book Bag!



The art and activities of John Dare (Jack) Howland: painter, soldier, Indian trader, and pioneer by Howland, John Dare, and Mumey, Nolie
Howland, John Dare, and Mumey, Nolie
285.00 USD
Add to Book Bag!



John Williams Gunnison (1812-1853), the last of the western explorers; a history of the survey through Colorado and Utah, with a biography and details of his massacre. by Mumey, Nolie
Mumey, Nolie
280.00 USD
Add to Book Bag!



Operation Hard Sell: Espionage in Nippon and the Living Land by Stark, Ed
Stark, Ed
5.50 USD
Add to Book Bag!



Indian and White: Self-Image and Interaction in a Canadian Plains Community
Braroe, Niels
9.00 USD
Add to Book Bag!



The Dead Fathers Club
Haig, Matt
7.50 USD
Add to Book Bag!



Sweet Days & Beyond: The Morse Family - Eight Generations of Maple Sugaring
Morse, Burr
6.50 USD
Add to Book Bag!



And I, Francis : The Life of Francis of Assisi in Word and Image
Dunlap, Lauren Glen; Fruge-Brown, Kathleen
6.50 USD
Add to Book Bag!



A Ladybird Book of Musical Instruments (History of the Arts)
Ann Rees
12.00 USD
Add to Book Bag!



A Covenant With Death
Becker, Stephen D.
180.50 USD
Add to Book Bag!



El Etermo Femenino by Castellanos, Rosario
Castellanos, Rosario
6.50 USD
Add to Book Bag!