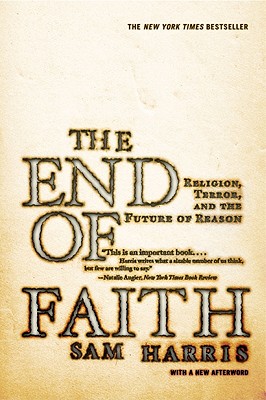 Image shown may not reflect actual item
Author Name Harris, Sam
Title The End of Faith: Religion, Terror, and the Future of Reason
Binding PAPERBACK
Book Condition Very Good
Publisher W. W. Norton
ISBN Number 0393327655 / 9780393327656
Seller ID SKU1034384
0393327655 Very Good. Light shelf wear to covers/corners; satisfaction guaranteed. Trade paperback binding. Earthlight Books is a family owned and operated, independent bookstore serving Walla Walla, Washington since 1973.
More Description
This important and timely book delivers a startling analysis of the clash of faith and reason in today's world. Harris offers a vivid historical tour of mankind's willingness to suspend reason in favor of religious beliefs, even when those beliefs are used to justify harmful behavior and sometimes-heinous crimes. He asserts that in the shadow of weapons of mass destruction, we can no longer tolerate views that pit one true god against another. Most controversially, he argues that we cannot afford moderate lip service to religion; an accommodation that only blinds us to the real perils of fundamentalism. While warning against the encroachment of organized religion into world politics, Harris also draws on new evidence from neuroscience and insights from philosophy to explore spirituality as a biological, brain-based need. He calls on us to invoke that need in taking a secular humanistic approach to solving the problems of this world.
Price = 4.00 USD


Profiles of Jesus
Hoover, Roy W.; Borg, Marcus J.; Corley, Kathleen E.; Crossan, John Dominic; Dewey, Arthur J.; Fortna, Robert T.; Funk, Robert W.; Hedrick, Charles W.; McGaughy, Lane C.; James M. Robinson
19.50 USD
Add to Book Bag!



From Darkness to Light: An Autobiography by Belgica, Butch
Belgica, Butch
85.50 USD
Add to Book Bag!


Enterprising Colonials' Society on the Eve of the Revolution
Sachs, William S.; Hoogenboom, Ari
9.00 USD
Add to Book Bag!



COBEAN'S NAKED EYE.
76.00 USD
Add to Book Bag!



American Rhetoric: Context and Criticism
39.00 USD
Add to Book Bag!



Realistic Visionary: A Portrait of George Washington
Henriques, Peter R.
9.50 USD
Add to Book Bag!



Africa in History
Davidson, Basil
5.00 USD
Add to Book Bag!


Abigail Adams, an American woman (The Library of American biography)
Akers, Charles W
18.00 USD
Add to Book Bag!


Slave Nation: How Slavery United The Colonies And Sparked The American Revolution
Blumrosen, Alfred W.; Blumrosen, Ruth G.
6.50 USD
Add to Book Bag!



I Capture the Castle
Smith, Dodie
5.50 USD
Add to Book Bag!



Red Sky at Morning
Richard Bradford
90.00 USD
Add to Book Bag!


The American Revolution and the French Alliance
Stinchcombe, William C.
14.00 USD
Add to Book Bag!