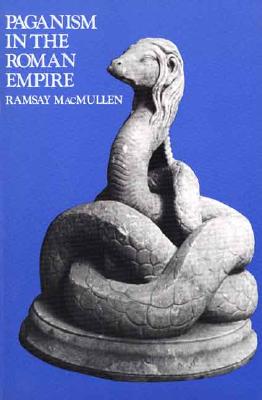 Image shown may not reflect actual item
Author Name MacMullen, Ramsay
Title Paganism in the Roman Empire
Binding PAPERBACK
Book Condition Very Good
Publisher Yale University Press
ISBN Number 0300029845 / 9780300029840
Seller ID SKU1034392
0300029845 Very Good. Light shelf wear to covers/corners; satisfaction guaranteed. Trade paperback binding. Earthlight Books is a family owned and operated, independent bookstore serving Walla Walla, Washington since 1973.
More Description
"MacMullen...has published several books in recent years which establish him, rightfully, as a leading social historian of the Roman Empire. The current volume exhibits many of the characteristics of its predecessors: the presentation of novel, revisionist points of view...; discrete set pieces of trenchant argument which do not necessarily conform to the boundaries of traditional history; and an impressive, authoritative, and up-to-date documentation, especially rich in primary sources...A stimulating and provocative discourse on Roman paganism as a phenomenon worthy of synthetic investigation in its own right and as the fundamental context for the rise of Christianity."-Richard Brilliant, History "MacMullen's latest work represents many features of paganism in its social context more vividly and clearly than ever before."-Fergus Millar, American Historical Review "The major cults...are examined from a social and cultural perspective and with the aid of many recently published specialized studies...Students of the Roman Empire...should read this book."-Robert J, Penella, Classical World "A distinguished book with much exact observation...An indispensable mine of erudition on a grand theme." Henry Chadwick, Times Literary Supplement Ramsay MacMullen is Dunham Professor of History and Classics at Yale University and the author of Roman Government's Response to Crisis, A.D. 235-337 and Roman Social Relations, 50 B.C. to A.D. 284
Price = 7.00 USD


A Very Long Engagement
Japrisot, Sebastien
3.00 USD
Add to Book Bag!



If the River Was Whiskey
T. C. Boyle
13.00 USD
Add to Book Bag!



New Found Tales from Many Lands
Egan, Joseph Burke
23.00 USD
Add to Book Bag!



What Hath God Wrought: The Transformation of America, 1815-1848 (The Oxford History of the United States, Vol. 5)
Daniel Walker Howe
19.50 USD
Add to Book Bag!



Andrew Jackson
Remini, Robert V.
5.50 USD
Add to Book Bag!



Elizabethan Dramatists As Critics
Klein, David
7.00 USD
Add to Book Bag!



Profiles of Jesus
Hoover, Roy W.; Borg, Marcus J.; Corley, Kathleen E.; Crossan, John Dominic; Dewey, Arthur J.; Fortna, Robert T.; Funk, Robert W.; Hedrick, Charles W.; McGaughy, Lane C.; James M. Robinson
19.50 USD
Add to Book Bag!



From Darkness to Light: An Autobiography by Belgica, Butch
Belgica, Butch
85.50 USD
Add to Book Bag!


Enterprising Colonials' Society on the Eve of the Revolution
Sachs, William S.; Hoogenboom, Ari
9.00 USD
Add to Book Bag!



COBEAN'S NAKED EYE.
69.00 USD
Add to Book Bag!



Africa in History
Davidson, Basil
5.00 USD
Add to Book Bag!



The Messiah: An Oratorio for Four-Part Chorus of Mixed Voices, Soprano, Alto, Tenor, and Bass Soli and Piano
G. F. Handel
6.00 USD
Add to Book Bag!