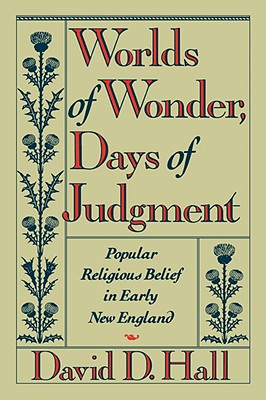 Image shown may not reflect actual item
Author Name Hall, David D.
Title Worlds of Wonder, Days of Judgment: Popular Religious Belief in Early New England
Binding PAPERBACK
Book Condition New
Publisher Harvard University Press
ISBN Number 0674962168 / 9780674962163
Seller ID SKU1034795
0674962168 Brand New; satisfaction guaranteed. Trade paperback binding. Earthlight Books is a family owned and operated, independent bookstore serving Walla Walla, Washington since 1973.
More Description
This book tells an extraordinary story of the people of early New England and their spiritual lives. It is about ordinary people--farmers, housewives, artisans, merchants, sailors, aspiring scholars--struggling to make sense of their time and place on earth. David Hall describes a world of religious consensus and resistance: a variety of conflicting beliefs and believers ranging from the committed core to outright dissenters. He reveals for the first time the many-layered complexity of colonial religious life, and the importance within it of traditions derived from those of the Old World. We see a religion of the laity that was to merge with the tide of democratic nationalism in the nineteenth century, and that remains with us today as the essence of Protestant America.
Price = 21.00 USD