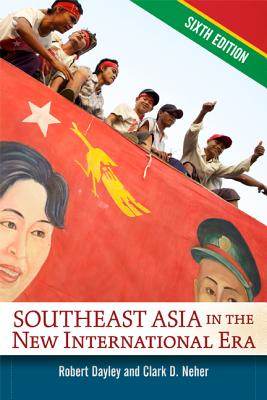 Image shown may not reflect actual item
Author Name Dayley, Robert; Neher, Clark D.
Title Southeast Asia in the New International Era
Binding PAPERBACK
Book Condition Good
Edition 6
Publisher Westview Press
ISBN Number 0813347548 / 9780813347547
Seller ID SKU1035151
0813347548 Good. Light to moderate shelf wear to covers/corners; satisfaction guaranteed. Contains academic or public library markings. Trade paperback binding. Earthlight Books is a family owned and operated, independent bookstore serving Walla Walla, Washington since 1973.
More Description
"Southeast Asia in the New International Era" highlights the dramatic political events sweeping a dynamic region populated by more than 500 million people. Where economic boom and crisis dominated events in the late twentieth century, economic recovery and policy dilemmas define much of the region today. Political cleavage continues to bedevil Thailand's intermittent democratization. Vietnam's single-party rule fosters ever tighter political control as it reacts to lagging economic growth. Surprising many, Burma's once closed polity now shows signs of genuine reform and openness. Elsewhere, patronage politics continues to inhibit development in the Philippines even as it fuels unprecedented growth in Cambodia and Laos. Home to the world's largest Muslim population, Indonesia blazes new ground with young democratic institutions while simmering aspirations for greater democracy in neighboring Malaysia generate mass protest. Representing the greatest contrast in the region is the rich and stable, corporatist state of Singapore versus the economically poor and politically fragile democracy of Timor-Leste. Amidst domestic developments, ASEAN's global profile continues to rise as the region's governments address a growing array of transnational concerns. This newly revised edition examines these developments and many others affecting the region and international political economy.
Price = 6.50 USD