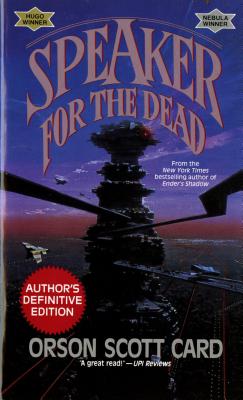 Image shown may not reflect actual item
Author Name Card, Orson Scott
Title Speaker for the Dead (The Ender Quintet)
Binding MASS MARKET PAPERBACK
Book Condition Good
Publisher Tor Books
ISBN Number 0812550757 / 9780812550757
Seller ID SKU1035942
0812550757 Good. Light to moderate shelf wear to covers/corners; satisfaction guaranteed. Mass market paperback binding. Earthlight Books is a family owned and operated, independent bookstore serving Walla Walla, Washington since 1973.
More Description
In the aftermath of his terrible war, Ender Wiggin disappeared, and a powerful voice arose: The Speaker for the Dead, who told the true story of the Bugger War.
Now, long years later, a second alien race has been discovered, but again the aliens' ways are strange and frightening...again, humans die. And it is only the Speaker for the Dead, who is also Ender Wiggin the Xenocide, who has the courage to confront the mystery...and the truth. "Speaker for the Dead," the second novel in Orson Scott Card's Ender Quintet, is the winner of the 1986 Nebula Award for Best Novel and the 1987 Hugo Award for Best Novel.
Price = 3.50 USD