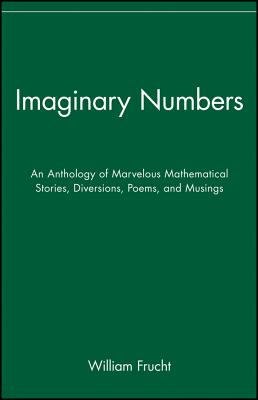 Image shown may not reflect actual item
Author Name Frucht
Title Imaginary Numbers: An Anthology of Marvelous Mathematical Stories, Diversions, Poems, and Musings
Binding PAPERBACK
Book Condition Fair
Publisher Wiley
ISBN Number 047139341X / 9780471393412
Seller ID SKU1037571
047139341X Fair. Moderate shelf wear to covers/corners; satisfaction guaranteed. Light to moderate water damage resulting in ripple and discoloration to pages. Trade paperback binding. Earthlight Books is a family owned and operated, independent bookstore serving Walla Walla, Washington since 1973.
More Description
"With this delightful anthology, Frucht throws a bridge across the chasm separating the 'Two Cultures' of science and literature."--Booklist
"A marvelous colledtion of diverse talents and writing."--San Diego Union-Tribune
A wildly inventive treasury of the most artful words ever written about numbers. Mathematics and writing may seem to exist in opposite realms, but as William Frucht reveals, the world of numbers has always held a special fascination for men and women of letters. Imaginary Numbers displays the fruits of this cross-fertilization by collecting the best creative writing about mathematical topics from the past hundred years. In this engaging anthology, we can explore the many ways writers have played with mathematical ideas. Delve into the fourth dimension and infinity, into fantasy and philosophy with such masters as Lewis Carroll, Edwin Abbott Abbott, Philip K. Dick, Martin Gardner, and Alan Lightman. Revel in renowned tales by Italo Calvino and Jorge Luis Borges, cult classics such as Connie Willis's "The Schwartzschild Radius,"and lesser-known gems by such visionaries as William Gibson and A. K. Dewdney. For mathematical mavens and literary lions alike, Imaginary Numbers adds up to one fascinating read.
Price = 4.00 USD


The Legend of Broken
Carr, Caleb
8.00 USD
Add to Book Bag!



Dr. Chase's Recipes: or, Information for Everybody: An Invaluable Collection of About Eight Hundred Practical Recipes, for merchants, grocers, saloon-keepers, physicians, druggists, tanners, shoe makers, harness makers, painters, jewlers, blacksmiths, tin
Chase, A.W.
57.00 USD
Add to Book Bag!



If They Come in the Morning
Davis, Angela Y.
23.50 USD
Add to Book Bag!



Stories from the Italian Poets - Two Vols (Knickerbocker Nuggets, XIV)
Dante Alighieri; Bernardo Tasso; Ludovico Giovanni Ariosto
11.00 USD
Add to Book Bag!


l'Alouette
Anouilh, Jean
6.00 USD
Add to Book Bag!



Oberammergau: The Troubling Story of the World's Most Famous Passion Play
Shapiro, James
8.00 USD
Add to Book Bag!



Human Digest Presents Couples: A Complete Sexual Guide for Lovers
n/a
23.50 USD
Add to Book Bag!



JOURNAL OF KENKO
GOWEN, HERBERT H.
18.50 USD
Add to Book Bag!



Toward Imagination: Culture and the Individual
Steiner, Rudolf
72.00 USD
Add to Book Bag!


Crazy Horse
Garst, Shannon
5.50 USD
Add to Book Bag!



The Work of Frank LLoyd Wright. The Great Wendingen Edition
Wright, Frank Loyd
69.00 USD
Add to Book Bag!



CHAUCER AND HIS POETRY.
9.50 USD
Add to Book Bag!