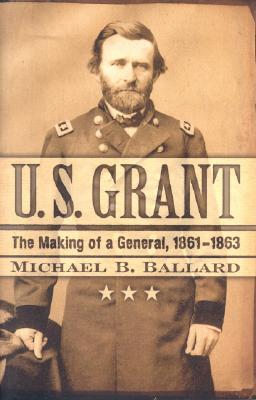 Image shown may not reflect actual item
Author Name Ballard, Michael B.
Title U. S. Grant: The Making of a General, 1861?1863 (The American Crisis Series: Books on the Civil War Era)
Binding Hardcover
Book Condition Very Good
Publisher Rowman & Littlefield Publishers
ISBN Number 0742543080 / 9780742543089
Seller ID SKU1038151
0742543080 Very Good. Light shelf wear to covers/corners; satisfaction guaranteed. Hardcover with Dust Jacket under mylar.
More Description
What made Ulysses S. Grant tick? Perhaps the greatest general of the Civil War, Grant won impressive victories and established a brilliant military career. His single-minded approach to command was coupled with the ability to adapt to the kind of military campaign the moment required. In this exciting new book, Michael B. Ballard provides a crisp account of Grant's strategic and tactical concepts in the period from the outset of the Civil War to the battle of Chattanooga a period in which U. S. Grant rose from a semi-disgraceful obscurity to the position of overall commander of all Union armies. The author carefully sifts through diaries and letters of Grant and his inner circle to try to get inside Grant's mind and reveal why those early years of the war were formative in producing the Civil War's greatest general.
Price = 5.50 USD