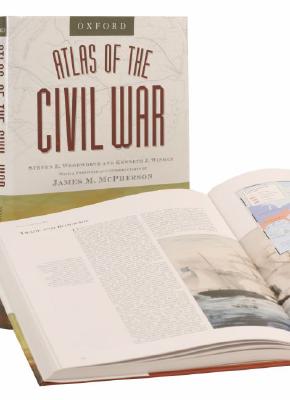 Image shown may not reflect actual item
Author Name Woodworth, Steven E.; Winkle, Kenneth J.
Title The Oxford Atlas of the Civil War
Binding Hardcover
Book Condition Very Good
Publisher Oxford University Press
ISBN Number 0195221311 / 9780195221312
Seller ID SKU1038200
0195221311 1st edition, 1st printing. Very Good. Light shelf wear to covers/corners; satisfaction guaranteed. Hardcover with Dust Jacket under mylar. Book is oversized and/or heavy, priority or international orders will require additional shipping funds.
More Description
Offering the clearest and most comprehensive examination of the conflict that transformed the United States, the Atlas of the Civil War reveals the full dimensions of this historic confrontation. Surpassing the scope of any previously published single-volume work, this atlas pairs expert scholarship with bold mapping to vividly depict the ebb and flow of destruction and reconstruction.
Divided chronologically into five sections, the Atlas of the Civil War illustrates every significant battle and military campaign while simultaneously considering the important social themes that shaped the country during the same time period. All theaters of war in which armies fought and maneuvered will be covered in detail and, marking a major departure from other atlases, this volume will devote substantial attention to the nonmilitary elements of the struggle between North and South. Maps of population, economic development, elections, transportation networks and patterns of enlistment illuminate the intersections between the home front and the battlefield, demonstrating with specially commissioned cartography that no war is fought in isolation from the rest of society. Approximately forty three-dimensional maps of terrain and troop movements add yet another unique element to this ambitious reference.
Written by two esteemed Civil War historians, Kenneth Winkle and Steven Woodworth, the pithy text is accented with black and white photography and illustrations that bring key characters and settings to life. Pulitzer-prize winning author James McPherson, guides the project, setting the tone of the atlas with a foreword and five shorter essays the open each of the sections.
Price = 33.00 USD