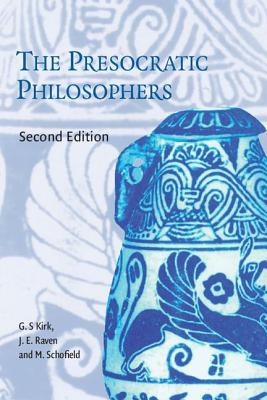 Image shown may not reflect actual item
Author Name Kirk, G. S.; Raven, J. E.; Schofield, M.
Title The Presocratic Philosophers: A Critical History with a Selection of Texts
Binding PAPERBACK
Book Condition Good
Edition 2
Publisher Cambridge University Press
ISBN Number 0521274559 / 9780521274555
Seller ID SKU1038945
0521274559 Good. Light to moderate shelf wear to covers/corners; satisfaction guaranteed. Trade paperback binding. Earthlight Books is a family owned and operated, independent bookstore serving Walla Walla, Washington since 1973.
More Description
Beginning with a long and extensively rewritten introduction surveying the predecessors of the Presocratics, this book traces the intellectual revolution initiated by Thales in the sixth century B.C. to its culmination in the metaphysics of Parmenides and the complex physical theories of Anaxagoras and the Atomists in the fifth century it is based on a selection of some six hundred texts, in Greek and a close English translation which in this edition is given more prominence. These provide the basis for a detailed critical study of the principal individual thinkers of the time. Besides serving as an essential text for undergraduate and graduate courses in Greek philosophy and in the history of science, this book will appeal to a wide range of readers with interests in philosophy, theology, the history of ideas and of the ancient world, and indeed to anyone who wants an authoritative account of the Presocratics.
Price = 7.50 USD