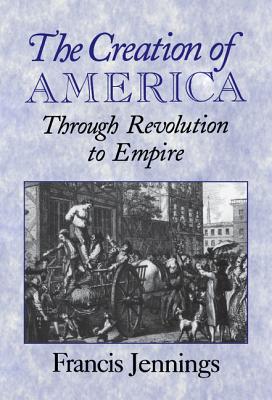 Image shown may not reflect actual item
Author Name Jennings, Francis
Title The Creation of America: Through Revolution to Empire
Binding Hardcover
Book Condition Very Good
Publisher Cambridge University Press
ISBN Number 0521662559 / 9780521662550
Seller ID SKU1038991
0521662559 1st Edition, Very Good. Light shelf wear to covers/corners; satisfaction guaranteed. Hardcover lacking the Dust Jacket. Earthlight Books is a family owned and operated, independent bookstore serving Walla Walla, Washington since 1973.
More Description
In the standard presentation of the American Revolution, a ragtag assortment of revolutionaries, inspired by the ideals of liberty and justice, rise to throw off the yoke of the British empire and bring democracy to the New World. It makes a pretty story. Now, in place of this fairytale standing in for history, Francis Jennings presents a realistic alternative: a privileged elite, dreaming of empire, clone their own empire from the British. Jennings shows that colonies were extensions from Britain intended from the first to conquer American Indians. Though subordinate to the British crown, in the opposite direction they ruled over beaten native peoples. Adding to this dual nature, some colonists bought Africans as slaves and rigidly ruled over them within their colonies. To justify conquests and oppression, they invented the concept of racial gradation in a system of social castes. We live with it still. In this full scale reconception, the experience of tribal Indians and enslaved Blacks is brought into the whole picture. The colonists were enraged by efforts of crown and Parliament to forbid settlement in tribal territories. Especially Virginians rose under great speculator George Washington to seize the western lands in defiance of the crown's orders. We witness the founders' invasion and attempted conquest of Canada and the "conquest" of Pennsylvania as Quakers and German pietists were deprived of citizenship rights and despoiled of property through armed force and legal trickery. British sympathies were so strong that George III had to hire Hessians as soldiers because he could not trust his own people. And Britain also had movements for reform that won freedom of the press and refusal to legislate slavery while the Revolutionaries tarred and feathered their opponents and strengthened the slavery institution. Revolutionary rhetoric about liberty and virtue is revealed as war propaganda. Illegal "committees" and "conventions" functioned like soviets of the later Russian revolution. The U.S. Constitution was the fulfillment of the Revolution rather than its "Thermidor." The work is meticulously documented and detailed. By including the whole population in its history, Jennings provides an eloquent explanation for a host of anomalies, ambiguities, and iniquities that have followed in the Revolution's wake.
Price = 8.50 USD

Ground Zero, Nagasaki: Stories
Seirai, Yuichi
9.50 USD
Add to Book Bag!



Madam Sarah by Quin-Harkin, Janet
Quin-Harkin, Janet
1.50 USD
Add to Book Bag!



Drama: An Actor's Education
Lithgow, John
10.00 USD
Add to Book Bag!



Wendy and the Lost Boys: The Uncommon Life of Wendy Wasserstein
Salamon, Julie
9.50 USD
Add to Book Bag!



Why Courage Matters: The Way to a Braver Life
McCain, John; Salter, Marshall
5.00 USD
Add to Book Bag!



The Marrowbone Marble Company: A Novel
Taylor, Glenn
5.00 USD
Add to Book Bag!



Requirements for Certification of Teachers, Counselors, Librarians, Administrators for Elementary and Secondary Schools, Seventy-sixth Edition, ... Schools, Secondary Schools, Junior)
3.50 USD
Add to Book Bag!



Finishing the Hat: Collected Lyrics (1954-1981) with Attendant Comments, Principles, Heresies, Grudges, Whines and Anecdotes
Sondheim, Stephen
16.00 USD
Add to Book Bag!



An American Childhood
Dillard, Annie
9.50 USD
Add to Book Bag!



City Observed: Boston
Lyndon, Donlyn
9.50 USD
Add to Book Bag!



The Historical Atlas of the American Revolution
Barnes, Ian
6.00 USD
Add to Book Bag!


Lincoln in American Memory
Peterson, Merrill D.
4.00 USD
Add to Book Bag!