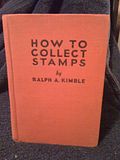 Author Name Kimble, Ralph A.
Title How to collect stamps, a basic course of instruction in the world's most popular pastime, by Ralph A. Kimble. by Kimble, Ralph A.
Binding Hardcover
Book Condition Good
Publisher Grosset & Dunlap 1936
Seller ID ALIBRIS.0002866
~clean text, tight binding, light wear to exterior, Support Pacific Northwest Independent Booksellers! viii, 147 p, [1] p. 21 cm. Illustrated lining-papers.
Price = 9.50 USD