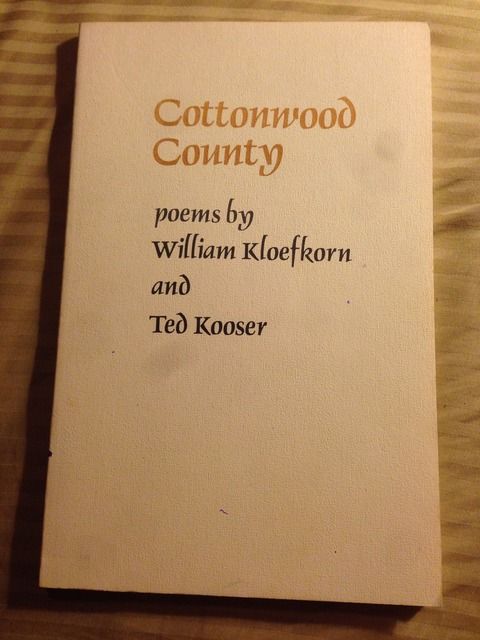 Author Name KLOEFKORN, William and Kooser, Ted.
Title Cottonwood Country: Poems.
Binding PAPERBACK
Book Condition Good
Publisher Lincoln Windflower Press
ISBN Number B000UFZINE
Seller ID SKU1042063
B000UFZINE NOT A HARDCOVER. Association Copy: Signed and inscribed by author to Bill Ransom. Good. Light to moderate shelf wear to covers/corners; satisfaction guaranteed. Trade paperback binding. Bill Ransom was born in Puyallup, Washington, in 1945, and he began full-time employment at the age of eleven as an agricultural worker. He attended Washington State University on track and boxing scholarships, and the University of Puget Sound on a track scholarship. Ransom has published six novels, six poetry collections, numerous short stories and articles. Learning the Ropes (Utah State University Press), a collection of poetry, short fiction and essays, was billed as "a creative autobiography."? His poetry has been nominated for both the Pulitzer Prize and the National Book Award. Frank Herbert, author of the Dune series, was Bill's mentor in the realm of fiction, and they co-authored several science fiction titles together. Ransom was my professor at The Evergreen State College before serving as academic dean for the last of his stint there. We have more of his books available upon request. Earthlight Books is a family owned and operated, independent bookstore serving Walla Walla, Washington since 1973.
Price = 28.00 USD