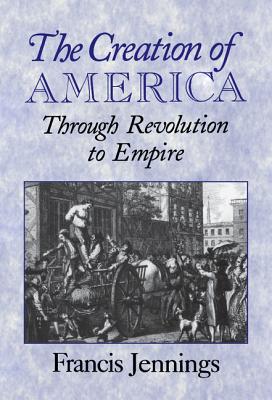 Image shown may not reflect actual item
Author Name Jennings, Francis
Title The Creation of America: Through Revolution to Empire
Binding Hardcover
Book Condition Very Good
Publisher Cambridge University Press
ISBN Number 0521662559 / 9780521662550
Seller ID SKU1038991
0521662559 1st Edition, Very Good. Light shelf wear to covers/corners; satisfaction guaranteed. Hardcover lacking the Dust Jacket. Earthlight Books is a family owned and operated, independent bookstore serving Walla Walla, Washington since 1973.
More Description
In the standard presentation of the American Revolution, a ragtag assortment of revolutionaries, inspired by the ideals of liberty and justice, rise to throw off the yoke of the British empire and bring democracy to the New World. It makes a pretty story. Now, in place of this fairytale standing in for history, Francis Jennings presents a realistic alternative: a privileged elite, dreaming of empire, clone their own empire from the British. Jennings shows that colonies were extensions from Britain intended from the first to conquer American Indians. Though subordinate to the British crown, in the opposite direction they ruled over beaten native peoples. Adding to this dual nature, some colonists bought Africans as slaves and rigidly ruled over them within their colonies. To justify conquests and oppression, they invented the concept of racial gradation in a system of social castes. We live with it still. In this full scale reconception, the experience of tribal Indians and enslaved Blacks is brought into the whole picture. The colonists were enraged by efforts of crown and Parliament to forbid settlement in tribal territories. Especially Virginians rose under great speculator George Washington to seize the western lands in defiance of the crown's orders. We witness the founders' invasion and attempted conquest of Canada and the "conquest" of Pennsylvania as Quakers and German pietists were deprived of citizenship rights and despoiled of property through armed force and legal trickery. British sympathies were so strong that George III had to hire Hessians as soldiers because he could not trust his own people. And Britain also had movements for reform that won freedom of the press and refusal to legislate slavery while the Revolutionaries tarred and feathered their opponents and strengthened the slavery institution. Revolutionary rhetoric about liberty and virtue is revealed as war propaganda. Illegal "committees" and "conventions" functioned like soviets of the later Russian revolution. The U.S. Constitution was the fulfillment of the Revolution rather than its "Thermidor." The work is meticulously documented and detailed. By including the whole population in its history, Jennings provides an eloquent explanation for a host of anomalies, ambiguities, and iniquities that have followed in the Revolution's wake.
Price = 11.00 USD


Larkin's Blues: Jazz, Popular Music, and Poetry
Leggett, B. J.
45.50 USD
Add to Book Bag!



The Book of the American West
Monaghan, Jay - Editor. Authors - Adams, Ramon F.; Botkin, B. A.; Dodge, Natt N.; Easton, Robert and others
12.00 USD
Add to Book Bag!



The Oxford Atlas of the Civil War
Woodworth, Steven E.; Winkle, Kenneth J.
22.50 USD
Add to Book Bag!



Setting Free the Bears
John irving
39.00 USD
Add to Book Bag!



Acts of God: Book Three of the Christ Clone Trilogy
Beauseigneur, James
9.50 USD
Add to Book Bag!


The Italians and the creation of America: an exhibition at the John Carter Brown Library, Brown University by John Carter Brown Library, and Hough, Samuel J.
John Carter Brown Library, and Hough, Samuel J.
13.50 USD
Add to Book Bag!



Gone Wild (Caldecott Honor Book)
McLimans, David
19.50 USD
Add to Book Bag!



After the Plague: AND OTHER STORIES
Boyle, T.C.
16.00 USD
Add to Book Bag!



The Major, the Poacher, and the Wonderful One-Trout River
Hyde, Dayton O.
8.50 USD
Add to Book Bag!



The Whole Art Thing (A Joan Kahn Book)
Spring, Justin
15.00 USD
Add to Book Bag!


First Thoughts: Life and Letters of Abigail Adams
Edith B. Gelles
19.50 USD
Add to Book Bag!


The Adams Women: Abigail and Louisa Adams, Their Sisters and Daughters
Nagel, Paul C.
14.00 USD
Add to Book Bag!