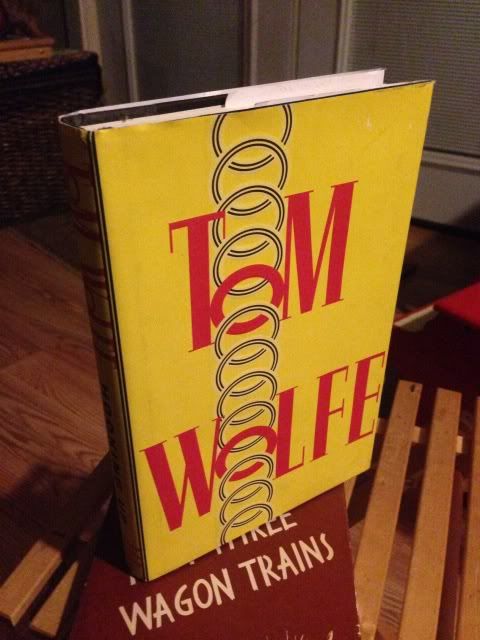 Author Name Tom Wolfe
Title Hooking Up
Binding Hardcover
Book Condition Very Good
Publisher Farrar, Straus and Giroux
ISBN Number 0374103828 / 9780374103828
Seller ID SKU12130602
0374103828 1st/1st, First Edition stated. Hardcover with Dust Jacket. Very Good. Light shelf wear to covers/corners; satisfaction guaranteed. Light rubbing and bumping to corners and edges of book and jacket.
More Description
Only yesterday boys and girls spoke of embracing and kissing (necking) as getting to first base. Second base was deep kissing, plus groping and fondling this and that. Third base was oral sex. Home plate was going all the way. That was yesterday. Here in the Year 2000 we can forget about necking. Today's girls and boys have never heard of anything that dainty. Today first base is deep kissing, now known as tonsil hockey, plus groping and fondling this and that. Second base is oral sex. Third base is going all the way. Home plate is being introduced by name.
And how rarely our hooked-up boys and girls are introduced by name -as Tom Wolfe has discovered from a survey of girls' File-o-Fax diaries, to cite but one of "Hooking Up's" displays of his famed reporting prowess. Wolfe ranges from coast to coast chronicling everything from the sexual manners and mores of teenagers... to fundamental changes in the way human beings now regard themselves thanks to the hot new field of genetics and neuroscience. . . to the inner workings of television's magazine-show sting operations.
Printed here in its entirety is "Ambush at Fort Bragg," a novella about sting TV in which Wolfe prefigured with eerie accuracy three cases of scandal and betrayal that would soon explode in the press. A second piece of fiction, "U. R. Here," the story of a New York artist who triumphs precisely because of his total lack of talent, gives us a case history preparing us for Wolfe's forecast ("My Three Stooges," "The Invisible Artist") of radical changes about to sweep the arts in America.
As an espresso after so much full-bodied twenty-first-century fare, we get a trip to Memory Mall. Reprinted here for the first time are Wolfe's two articles about "The New Yorke"r magazine and its editor, William Shawn, which ignited one of the great firestorms of twentieth-century journalism. Wolfe's afterword about it all is in itself a delicious draught of an intoxicating era, the Twistin' Sixties.
In sum, here is Tom Wolfe at the height of his powers as reporter, novelist, sociologist, memoirist, and-to paraphrase what Balzac called himself-the very secretary of American society in the 21st century.

Price = 11.50 USD


The Lonely Polygamist: A Novel
Udall, Brady
13.50 USD
Add to Book Bag!



The Heights
Hedges, Peter
13.50 USD
Add to Book Bag!



Think Free To Live Free: A Political Burnout`s Guide to Life, Activism, and Everything
Wolfe, Claire
47.50 USD
Add to Book Bag!



They Came to a Valley by Gulick, Bill
Gulick, Bill
45.00 USD
Add to Book Bag!



Three Comrades (Popular Giant G133X)
Remarque, Erich Maria
81.00 USD
Add to Book Bag!



The Book of the American West
Monaghan, Jay - Editor. Authors - Adams, Ramon F.; Botkin, B. A.; Dodge, Natt N.; Easton, Robert and others
12.00 USD
Add to Book Bag!



The Anarchist's Convention
Sayles, John
23.50 USD
Add to Book Bag!



Timber! Toil and Trouble in the Woods
Andrews, Ralph W.
28.50 USD
Add to Book Bag!



Kentucky Ham
Burroughs, William
58.50 USD
Add to Book Bag!



A Dream of Mind: Poems
Williams, C. K.
9.00 USD
Add to Book Bag!



Reho Wolfe: The End of a Salmon River Era
Wolfe, John A
97.50 USD
Add to Book Bag!



First light : poems
Wagoner, David
12.00 USD
Add to Book Bag!